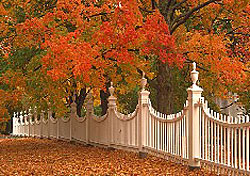 This week, as I wrapped myself in a cozy sweater and took a deep breath of crisp air, I looked up to notice that the leaves – almost suddenly – are an enchanting sea of gold, orange and red. And it hit me – fall has officially arrived. This weekend is especially lovely because many people have Monday off for Columbus Day. For my fellow New Englanders (and those visiting the area), now is the perfect time to take advantage of Columbus Day retail savings while also enjoying the season's stunning foliage. Of course, adding a bit of crafts and decorating can only amplify the fun. This calls for one very important thing – a retail road trip!
I begin my road trips by planning a route that really takes advantage of leaf peeping. There are certain websites like Fodors' Travel and the Travel Channel that detail a few of the most eye-catching routes. Since we'll be looking to also do some shopping with an eye toward fall décor, plan a route that has some interesting stores along the way. If you're heading toward Maine, I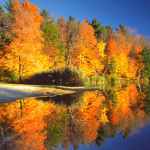 suggest stopping at Hoboken Gardens to pick up all your fall floral needs, along with a Festive Home wreath. Take in the autumn scenes, drink a cup of warm cider, and spend the night at Samoset Resort, which provides unparalleled views of the ocean. A true New England weekend.
Taking some leaves home with you can lend to creative and fun projects that will make your road trip memories last.  Martha Stuart has a three-step, yet very impressive, candleholder project that gives the leaves a beautiful glow and can brighten up the home with the colors of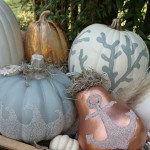 fall. Be sure to also pick up some pumpkins along the way – you can trace the leaves on them, or decorate to match your home. I love the idea of a coastal pumpkin theme, which marries nautical décor with the feeling of fall.
From mapping your trip, to stopping at festive stores, into Hoboken Gardens, or spending an evening at Samoset Resort, you are sure to have fun on your road trip this season!