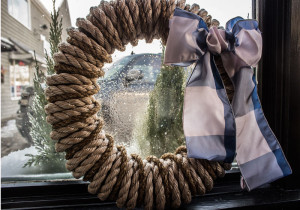 January is here, which means a slow-down from all the commotion of December as holiday parties dwindle and winter breaks come to an end. This month also marks the start of a New Year, which has become all but synonymous with making new resolutions and embarking on fresh starts. To that end, I always find this time of year to be one of the most rewarding when it comes to updates to my home. I like to take advantage of January's lighter calendar to spend time refreshing the aspects of my house I normally overlook. In the end, I always feel accomplished and ready to tackle the New Year with flair.
Here are my tips to get you started:
1. Out with the old…
Why wait until spring to begin your spring cleaning? Get a head start by removing all of those items that have simply been taking up space this past year. To avoid getting overwhelmed, don't try to tackle a whole room all at once. Set aside an hour or even ten minutes a day to focus on each space. Chipping away in small doses will make a big difference in the end (and help keep your sanity intact!).Begin with spaces that typically need de-cluttering like your closet, the office, TV room, or the kids' play room.  Start with the obvious clutter first. For instance, if you have old receipts, paychecks and bills strewn across your desk, throw away or shred the ones you don't need and organize the keepers. You can find storage solutions at virtually any department store, or you can make a fun craft project out of the process by decorating an old shoe box to keep the newly organized items.In the spirit of giving back, consider setting aside for donation the items that are still in good condition.  Organizations like My Brother's Keeper, Big Brother Big Sister, or the Salvation Army are sure to appreciate your generosity.
2. Revive and Thrive
I love taking something old and reviving it with new life. This can be as simple as re-arranging your furniture for a new take on your family room or picking a fresh color to paint your foyer. You can get more creative by adding unique items to your décor like a rustic lantern as a lighting fixture instead of a typical chandelier.  I also love the idea of repurposing objects for something unusual that ends up being both useful and decorative – like using an old ladder for shoe storage, repurposing shutters as a wall organizer, stacking old benches to make unique shelves, or using a basket as a small table.  These projects are a great way to make the most of what you have while simultaneously decorating your home with character and charm.
3. …In with the new
Take some time to refresh your living space with updated décor. Take a mental inventory of what's currently adorning the inside of your home. Does it work with your motif? Is it current or is it a bit outdated? Simple updates are often the best ones, like adding a mirror to an otherwise empty wall, or bringing the feelings of the season inside your home with festive garnishes. A first impression speaks volumes, so start by giving your entry way a fresh look to greet guests. A wreath is a timeless way to remain stylish and current. The Hampton Wreath, for example, provides a yearlong backdrop for all your seasonal designs. In fact, The Festive Wreath System allows you to effortlessly accessorize the Hampton Wreath for all seasons. It provides an easy-to-use attachment that can be changed for all occasions. For instance, I like to use faux pine cones and sprigs in January and then garnish it with coastal sand dollars or starfish in the summer months. It's a truly versatile and cheerful addition to your home.The New Year is an ideal time to update your home for a fresh start. I hope you've found my tips helpful and are on your way to a creative and productive 2015!